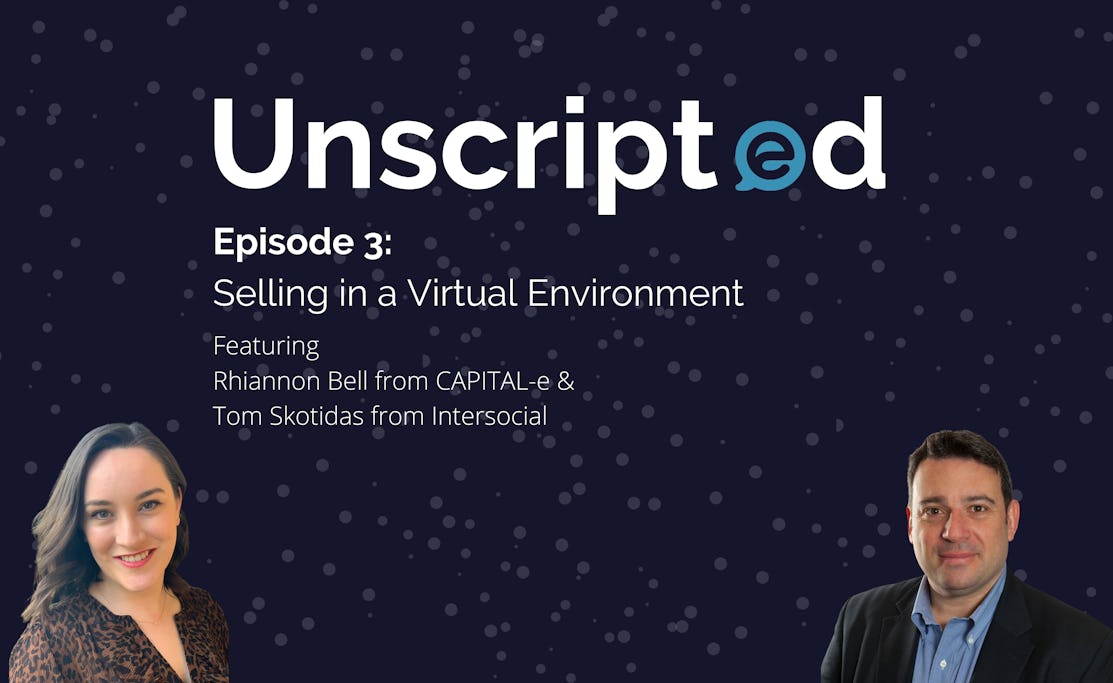 Tips & Insights
Marketing
Content Marketing
Unscripted Episode 3: Selling in a Virtual Environment - Tips from a Socially Selling Strategist
28th October 2021
|
Written by Rhiannon Bell
|
25 Min Watch
Featuring Tom Skotidas from Intersocial
Over the past 18 months, we have all had to rethink our sales approach. We've had to adjust our strategies, embrace new tech platforms, tweak our tactics and modify our mindset. 
Traditional face-to-face selling methods were removed from our sales tool belts overnight. Yet, all savvy business owners know that to remain relevant we need to be flexible and adapt to changing environments and audience behaviour. But that can be easier said than done if all we've been accustomed to is face-to-face selling. How can we confidently approach this new way of meeting virtually?
In this episode of UNSCRIPTeD, Rhiannon Bell, Head of Partner Development at CAPITAL-e introduces us to Tom Skotidas, Executive Coach and Social Selling Strategist. Tom is no newbie to social selling having launched Asia-Pacific's first agency specialising in social selling in 2011. 
In this video we learn how to bring social selling out of the shadows and into the spotlight creating new opportunities. They talk about the untapped opportunities behind your personal LinkedIn profile. And how creating a strong personal brand on the platform is a fantastic way to nurture those leads in the middle of the funnel, i.e. those who may be considering your product offering but are yet to make a purchase.   
Watch on if you want to know 
How to be successful at social selling? 
How to successfully approach this new way of "meeting" clients or prospects virtually?
How can your employees personal brands on social platforms such as LinkedIn, help your company increase its reach?