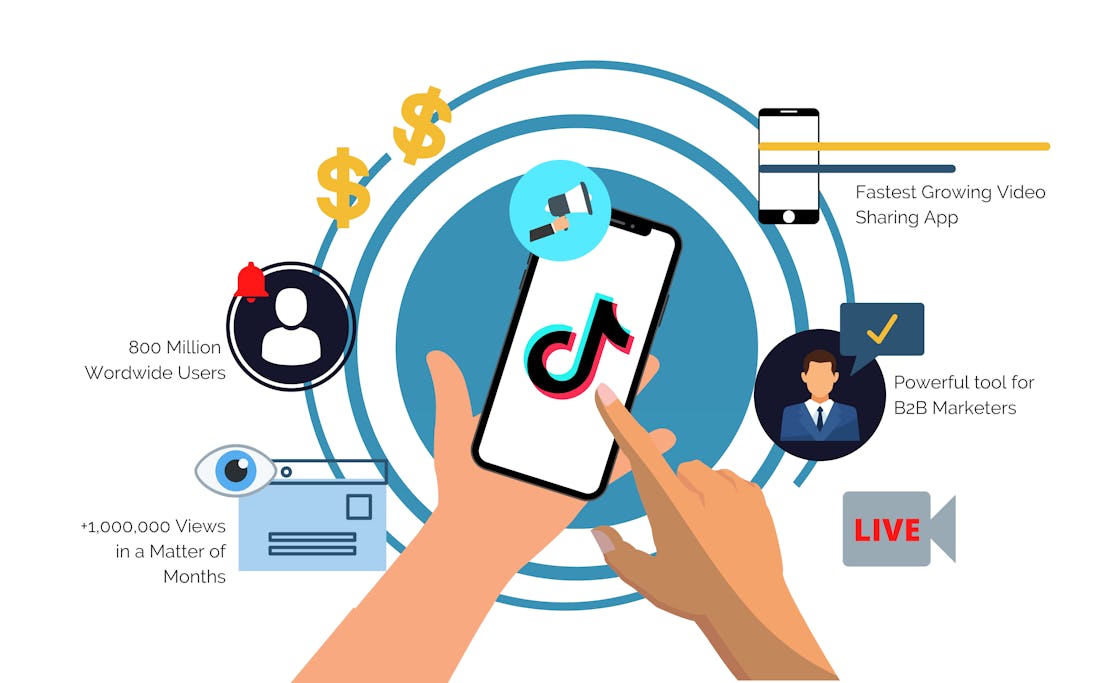 Is The Clock TikTok'ing For Your B2B Brand?
10th August 2021
|
Written by Rajhev Rajkumar
|
4 Minute Read
News about the growing popularity of the social media platform abound. The app user base grew by a factor of 5.5 in the last 18 months. And roughly 50% of those users are over 35. Based on those figures alone, one would think it's a question of when rather than if. The sad truth, however, is that if you build it, they won't necessarily come.
[tldr: while TikTok is growing at a phenomenal rate and allows people and businesses to showcase their creativity and storytelling in extraordinary ways to a growing but unforgiving audience, B2B companies will find it challenging to embrace and succeed on the platform without the brand personality and freedom to be authentic and playful]
Isn't TikTok more about being Sassy than being Saas?
I recently raved to a fifty-something, Facebook-loving friend about how much I loved TikTok. His response: "Isn't it just an app just for teenage girls to share videos of them dancing?"
Ummm. No.
I obviously understand why he could have that impression. Music and dance videos are a cornerstone of TikTok. And that probably has a bit to do with the fact that Musical.ly, the OG app for sharing short, user-generated dance and music videos, was acquired and merged into TikTok a few years back.
(OG? You really need to get yourself some teens in your life. That's Original Gangster, a slang term for something "old-school" yet exceptional).
But now TikTok videos cover a seemingly infinite number of topics and genres, including but definitely not limited to health, fitness, investing, crypto, nature, parenting, DIY, pets, small business, cars, gaming, psychiatry, gay pride, and so on and so on and so on.
It's all about the algorithm.
So why is it that your 14-year-old niece, daughter, neighbour still looks like she's spasming every time she walks past a mirror? Isn't that from her watching TikTok dance videos? Well, if you love watching and making dance videos, then yes, the app will serve you more and more dance videos. TikTok has a crazy good formula for assessing what you're into and showing you more of the same. So if you're like me and into cooking, pranks, tech and business, then you'll get cooking, pranks, tech and business videos.
But the targeting is even more sophisticated. If you are into cooking, it will show you videos on cooking rib-eye steaks, making Szechuan noodle dishes and grinding your own Indian spices, if that's what resonated with you recently. It adapts based on your changing needs. It shows you videos on the fringe of what you're interested in, videos that people like you are watching and videos that are trending overall in an attempt to learn what else you're into and increase stickiness even further. In fact, the main reason a few of my business colleagues have uninstalled TikTok isn't that it's boring and irrelevant. It's because it can suck up hours of your time without you even realising it.
It's also about the creators.
The breadth of content on TikTok is mind-blowing. As is the inventiveness, imagination and artistry of some of the creators on the platform. From killer effects to incredible storytelling to unusual things and happenings in villages and communities in far corners of the world. Some of it kinda makes me feel like I'm travelling again.
But is it about B2B?
So here's the thing. The attributes of creators and content that work well on TikTok isn't necessarily what you'd associate with most B2B brands. Authenticity, honesty, playfulness, weirdness… There's much, much more but you'd have to admit we're not off to a good start if you think of how most B2B brands position themselves. But all is not lost.
Adobe, with a suite of products aimed at creatives, is the kind of brand one would expect to play on TikTok. It seems to be trying partnerships with influencers and celebs as a way to draw attention to it's capabilities and brand aspirations. From Billie Eilish (32m followers) to fitness guru Demi Bagby (14m followers), Adobe is associating itself with videos about creativity or even just creative videos, and clearly looking to leverage partner audiences.
Shopify, the e-commerce platform, calls itself "the entrepreneurship company". By associating itself with product ideas, entrepreneur mindset, productivity hacks, entrepreneur facts and so on, it's playing with content that seemingly does well on social media. Whether it's about Dr. Nakamatsu, one of the greatest inventors ever, or Snoop Dog, thanking himself for his success, the brand is doing a good job of creating Tiktok-friendly content that should resonate with it's audience.
The Washington Post, yes the newspaper, has taken a playful, irreverent approach to calling out newsworthy topics. Whether it's bringing attention to an electric vehicle commitment by President Biden though an interview with a petrol car, or talking about a bill that would make broadband internet more affordable and accessible in the USA, the Washington Post TikTok guy has helped the paper amass over 900k followers through a creative approach completely at odds with the personality of the newspaper, while being beautifully aligned to the social channel's not-so-secret sauce.
Do I need to redo my social budget again?
Hmm. Not yet. Adobe and Shopify have 186k and 52k followers each. The Washington Post has over 900k but yeah, it's not strictly B2B. In fact the only reason I added it to the mix was because I was struggling to find more B2B brands rocking it on TikTok. PLEASE let us know if you know of a B2B business we should check out that is making a success of the platform. And while the Adobe and Shopify numbers may seem mildly impressive, let's just remind ourselves that Charli d'Amelio, Queen of TikTok, has 121 million followers.
So my take for now? Yes, it's an awesome platform and definitely worth checking out. In fact, experiencing it personally is the best way to get a feel for the type of storytelling and production values that resonate with the TikTok audience. If your brand lends itself to being expressed in a quirky, off-beat, warts-and-all kind of way, then have a think about what kind of videos you could produce to show up everyday and entertain, inspire or educate your community. Even fake it for a month by producing but not publishing. If you think you're onto a winner and can keep it up, then maybe look to go pro and activate your account. If not, just scroll up and away and leave it to the fitness fiends, the dancing divas and the home chefs to keep the Tik tokking.