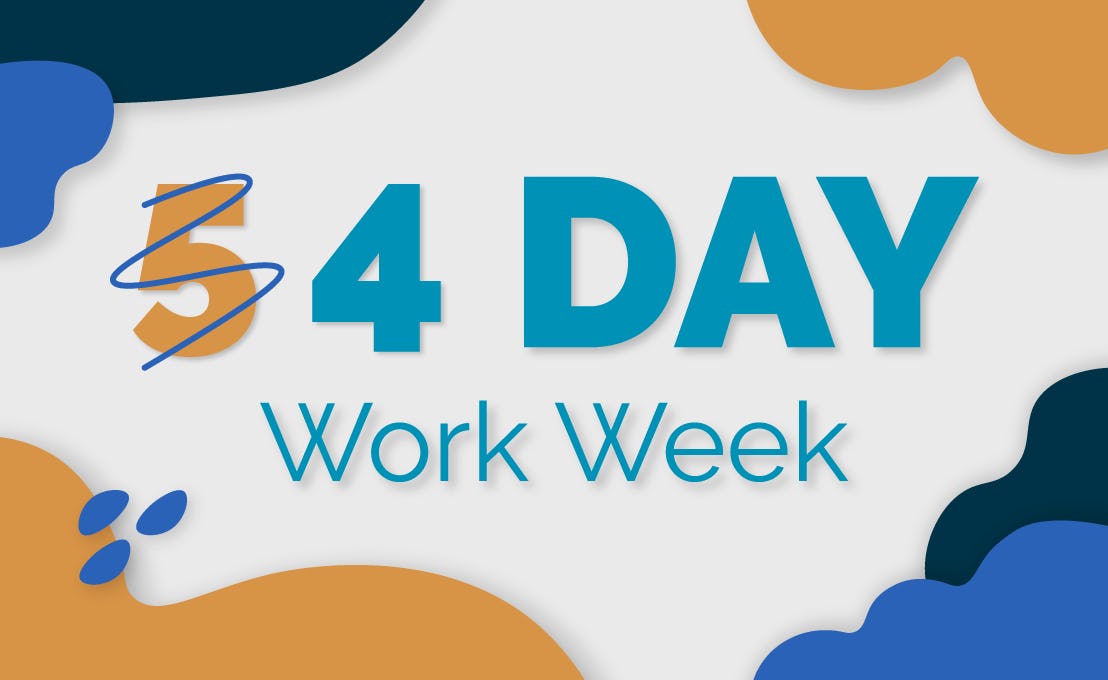 Exploring The 4 Day Work Week: a leader's perspective
28th February 2022
|
Written by Cara Hamann
|
5 Minute Read
Over the past couple years, we have seen many companies all across the world slowly transition to working a four-day work week instead of the five-day norm. This is happening because of the potential benefits to be had: of improved well-being for workers without losing productivity, in fact most studies have shown an increase in productivity. In having all these studies that were showing the positive outcomes of a 4 day work week, we thought that it was worth exploring!
In February of 2022, CAPITAL-e have decided to trial a 6 month period of a four day work week, for many reasons.
Where did we first hear of this idea of a four-day work week?
It's something Andrew, CEO & Founder of CAPITAL-e, and I discussed and questioned for a long time; give or take 13 years. We saw that ourselves and our team were continuously working so hard at a consistently exceptional pace and then only had 2 days to fit in all our life stuff; things like family, friends, socialising, errands, relaxing, hobbies, life admin, self care, FUN.  
The weekends tend to feel just as full and scheduled as the work week. Given one of the gifts of running your own business is that you get to make the rules and make the changes you want to see, we had always said "one day" it would be cool to do things differently.  I would say we learned about the 4 day work week through osmosis rather than trying to find a working structure that we thought might be a fit for our organisation.  In recent years it's been coming to us through print articles, podcasts, lots of organisations doing "wellness days" where a day of the week is off for extended periods of time, which is a form of this in an informal way.  
What about it sparked our interest?
The main reason it sparked our interest was that it could easily be done, and that we had seen and heard stories of its proven success. This trial is in place to show that we can and should  try things that test our theories, and if they don't work for us we tweak and iterate, or go back to a traditional(ish) model. 
At CAPITAL-e, we are always looking for new, fresh ideas to help improve the way we function and improve our quality of work, and this just feels like it's the future of the working lifestyle.
Plus, that we get an extra day for our well-being - which has never been more important!
What research supporting a four-day work week prompted our  decision to implement it at CAPITAL-e?
Truly what prompted this to happen right now is the experience of running a marketing andevents organisation during the pandemic. It has been a grind (for our entire team) through the massive surge in virtual events and all of the new processes that come with that. We are so appreciative of the work that everyone has put in to get us to this point. It has become clear that our team's well-being needs to be a core focus for us as we emerge from restrictions and lockdowns, especially sincen the lines between work and home have been blurred like never before.  We talked a lot about how we can continue to foster our company culture when we haven't been able to physically spend any time together as a group in years, and were also discussing how we could continue to uphold our number one value of employee success in such trying and fickle times.  The four-day work week has been getting a lot of time in the press in the past year especially, and we started noticing it more and more. We felt the new year was the best time to explore our own four-day week trial  to start 2022 with a new energy. We wanted to help ine areas we felt we could control (e.g. work life balance / greater productivity / creating efficiencies to allow for extra personal time) regardless of what might be happening with the pandemic.  What I mean to say is that, while the pandemic has been the catalyst, a change in our structure has always been on the cards.
I searched "4 day work week" in Apple podcasts and listened to every single podcast episode that I could find relating to the topic. Many of them refer to the same case studies (Unilever NZ, Microsoft Japan etc) which are interesting. However, I also found Buffer's story to be very helpful as they documented their journey throughout their trial so you could read about their progress, what worked, what they were measuring, what they have changed and what they have continued.  I felt while reading many of these articles and listening to the stories in podcasts that it all seemed so doable. You can only try, right?  I also questioned:- Why can we all do wellness days for a month or two and schedule our work and output appropriately around those, and for that to feel perfectly doable, but making it permanent doesn't?  Honestly, I think because it's new and it's (not yet) the norm.
What is our main consideration when adopting this new workflow?
Our main consideration is client service and ensuring consistency of service with us working on a slightly different schedule to many of our clients. We have a number of strategies in place that are designed to provide that continuity; even enhance the focus on their programs.For example:who is the POC (point of contact) on someone's day off? How do we ensure coverage and consistency remain for the customer?
Also keeping this super simple and flexible is important to us. There are plenty of ways to complicate this if we try, and lots of reasons that we could have used to keep pushing the trial date back. But by giving minimal guidelines, and by being agile as we go through this learning phase together, we are hoping for some great strategies, efficiencies and learnings from the group.
What do we hope this can do not only for CAPITAL-e, but for our clients?
Our main hope is that by providing a better work-life balance to help improve our teams health, happiness and productivity, we can allow the team to really focus on the output when we are working. We hope this can be a key driver in and retaining top talent to our agency. And we really want to demonstrate that this workforce model can work, even in the service industry. 
Above all, we want to make sure that we are constantly giving our all, in everything we do. And we hope that in adopting this new practice we will have even more brainpower to spend creating incredible outcomes for our clients via their projects. In the end, we hope to be a more creative, energised team that does their very best work.
To learn more about the effects of the 4-day work week, check out these resources that encouraged CAPITAL-e to trial this new method of work-life balance here: