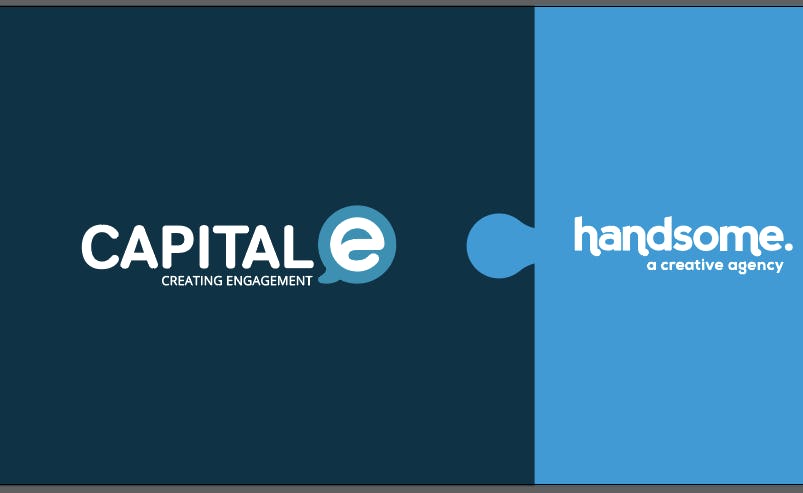 Creative Design
Content Marketing
CAPITAL-e just became even more attractive; welcoming Handsome Creative to the team!!
28th February 2022
|
Written by Cap-e
|
3 Minute Read
We recently  shared the exciting news that our team is growing, with the addition of Handsome Creative. Handsome is a brilliant brand and design agency, and this union can only be described as a massive win for our customers. We can't WAIT to let them know what they are in for.
Here's what our CEO, Andrew Everingham had to say:
"One could call it a match made in heaven. After all, brand and design is often a key part of every event and marketing project we work on. Now we can provide our clients with an even better service. We can guarantee exclusivity and a single point of call for their marketing and event projects. This is a win-win merger, for us and for our clients."
 The Why.
Rationalising the decision to combine our two brands was easy. When customer journeys happen on paths with no cracks, you no longer have to worry about stepping on them. As much as that sounds like an ancient proverb, here's what it means. CAPITAL-e identified the value of a creative and design department that is fully integrated into our business. It enhances the overall service for our customers  and allows us to provide  a holistic and streamlined marketing, events and brand experience, friction free!
The inclusion of  Handsome Creative  strengthens our deep experience in brand and design, and gives us absolute confidence in talking with our clients about project deliverables and deadlines, since they are going to bemanaged by us, in-house.
Ultimately our clients entrust us with their brands. We're thrilled to be able to reinforce that trust knowing that their projects are managed in one place, securely and professionally. 
The History.
It's important to point out that CAPITAL-e and Handsome Creative are no strangers. In fact, you could consider us close friends and confidants. You see, we have almost been working together since both companies started! CAPITAL-e celebrated our 10-year birthday in 2021 and Handsome Creative has been one of our primary creative partners for more than nine of those years! When you know something is good, you stick to it. And that's what we did. 
Don't just take our word for it, though. Here's what John Cassamatis, Founder and Creative Director of Handsome Creative had to say:
"We are thrilled to be merging with CAPITAL-e. Over the years we have loved working with them and their clients. We are aligned with our view of customer experience and quality of workmanship. 2022 has certainly started off in a great way for us! And we look forward to seeing the many benefits of this merger flow on to CAPITAL-e clients."
The Benefits.
We maintain close relationships with our entire supplier ecosystem. But when it comes to drawing these two codependent functions closer (brand marketing and creative design) the only way is up! Here are just some of the advantages we are psyched to be passing on to our clients:
Trust and Speed — Our project managers now work side by side with designers at every stage of the project, collaborating seamlessly and responding quickly to clients'   needs.
Exclusivity — Creative design is not outsourced to a design company, where we are unable to guarantee exclusivity. From start to end clients'  projects are now managed in-house, guaranteeing that their great ideas and exclusive content stays where it belongs, right there in their projects!
Beginning to End Investment — Having the creative team involved at every step of a project delivers better client outcomets. Designers gain an understanding of  brands from the start. They participate in defining the  project vision and work alongside the implementation team until it's well and truly over the line. 
Growth — We can scale projects quickly and efficiently without having to liaise with a third-party design agency (and their workload., And their existing commitments!) So, if clients have a larger than expected project, we can respond swiftly and give ourselves more than a fighting chance of delivering what they need, when they need it.
The Fun Facts.
New words introduced into the CAPITAL-E vernacular since the merger: composition, trim, bleed, aspect ratio, typography, knolling (what-ing?)
New points of confusion: white space (is it above the funnel prospects, or part of the design composition, we can't agree!) and teal (is it blue or green?)
Increase in the number of team coffees drunk per day: +50% (we don't know the actual number but we have observed that designers run on coffee).
If you'd like to know more about this exciting development and what it could mean for you, please get in touch and email us at askus@capital-e.com.au