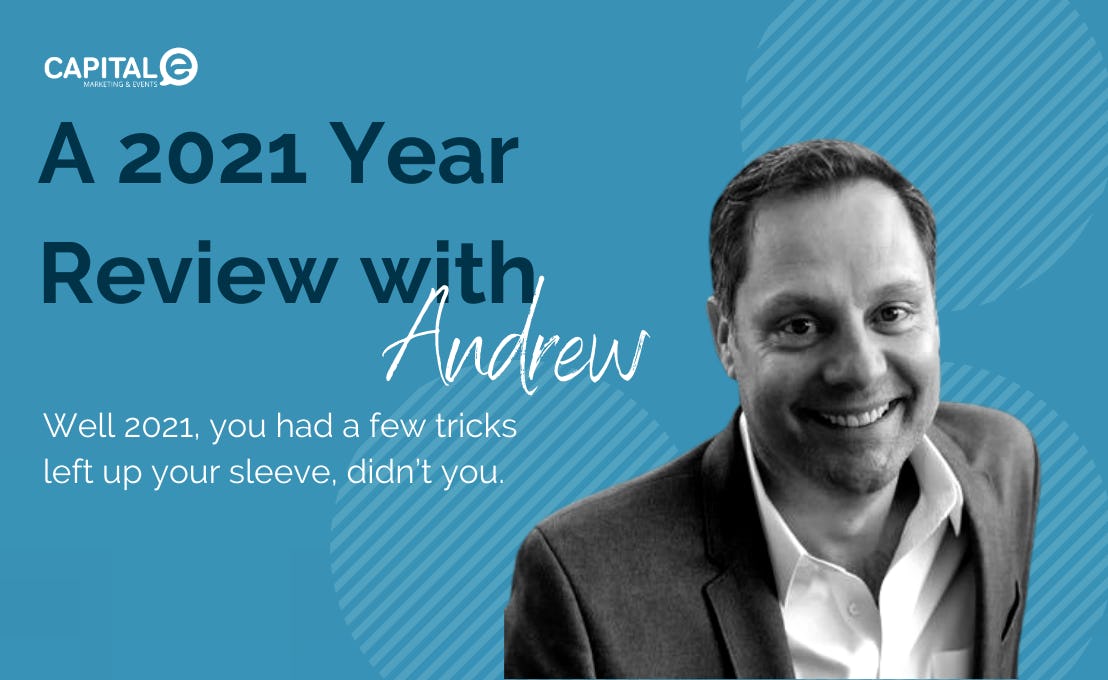 2021 CAPITAL-e Review By Andrew Everingham
16th December 2021
|
Written by Andrew Everingham
|
3 Minute Read
It's odd to think that about this time last year we were all relieved to be stepping off the roller-coaster ride that was 2020. "I don't know what's coming up in 2021," (most of us thought) "but it's got to be better than this." The Hilltop Hoods even wrote a song about it: (I'm Good?)
We were prematurely optimistic. While people like me imagined the pandemic and all its repercussions fading into the past while we marched defiantly towards a brighter future, you still had some tricks up your sleeve, didn't you 2021!
This year has revealed itself to be a chance to reflect, regather and recover for some. For others in our industry though, it's been nothing short of devastating. We've seen trusted suppliers disappear, and watched friends, in partner and competitor organisations, doing it tough. So, it's with quiet pride and heartfelt gratitude that we, at CAPITAL-e, find ourselves in such a strong position now.
Where did this resilience come from? I can answer without hesitation. It's deep-rooted in the strength of the amazing CAPITAL-e team, who've worked tirelessly, like Trojans, for the past year. And the year before.
You see, every team member combines to somehow make this organisation more than the sum of its parts. And for that I feel exceptionally blessed. They are truly remarkable people, and I am truly lucky to work among them. To each of them I say thank you.
Our customers, too, are inspirational. They've risen to challenges among disturbances, kicked down barriers, tried some things, failed at some things, and hit  big goals to come out on top. They've been brave in the face of uncertainty and trusted us with the responsibility of supporting them through everything. In integrated direct mail programs, virtual events, research projects and any number of other initiatives we've taken up on their behalf, they've given us such latitude and displayed such confidence in us. It has meant that during less-than-ideal circumstances we've done some of the best work in this company's life. What a thrill! To our customers we say unreservedly, thank you.
What does the future hold? I've been asking myself if this pandemic was 'the great reset that had to happen'. I don't know. But I do know it's challenged us to reconsider what's important and turn our lives more squarely to face those values. I've always maintained, since starting up ten years ago, that if we are not having fun, we're not doing things right. Well, these recent years have tested that theory to the max. There were certainly moments when "fun" wouldn't have been my go-to word. Still, I never once saw it coming apart. And for that I'm deeply thankful. I have the warm reassurance of knowing we can weather a pandemic with the team intact, and emerge in a state of growth, with just a few economic backbends along the way.
So perhaps now I'm looking into next year with a greater sense of realism that can only come from experiencing last year's false start. But I have stoicism in equal proportion, founded in the knowledge that we will deal with whatever comes our way and continue to bring fun, joy and big success to our customers and our team.
2022, we are ready for you!